Polystichum setiferum 'Plumosomultilobum'
soft shield fern (syn. Plumosum Densum)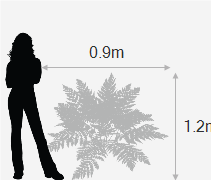 More of a plant sculpture with beautiful multifaceted leaves consisting of hundreds of tiny leaflets that give this fern fluid two-dimensional movement



Position: full or partial shade
Soil: fertile, humus-rich, well-drained soil
Rate of growth: average
Hardiness: fully hardy

Soft, narrow, dark green fronds arranged in a distinctive shuttlecock-like shape. This handsome evergreen fern is perfect for a shady border with fertile, humus-rich, well-drained soil. Cutting back the foliage in early January allows the surrounding area to be underplanted with snowdrops, winter aconites or wood anemones.


Garden care: Incorporate lots of well-rotted leaf mould, composted pine needles or garden compost into the planting hole.


Who can resist the allure of water in the garden? The gentle gurgle of a running stream creates a sense of calm and tranquillity, while a simple pond makes a focal point with magnetic appeal. You can create lush...
Read full article