Cyrtomium fortunei
fortune's cyrtomium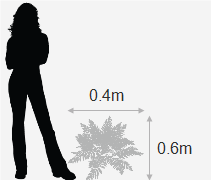 Position: partial to full shade
Soil: moderately fertile, humus-rich, moist but well-drained soil
Rate of growth: average
Hardiness: fully hardy

An semi-evergreen fern withbright green, broad, leathery fronds and distinctive black stems. It issometimes called holly fern due to the distinctive shape of the fronds. This fern has an upright habit and looks particularly attractive among other ferns or woodland plants in a shady border. but it does need humus-rich soil to thrive in.

Garden care: Remove old fronds in spring to allow the new growth to uncurl. do not allow to dry out.
Do you want to ask a question about this?
If so, click on the button and fill in the box below. We will post the question on the website, together with your alias (bunnykins, digger1, plantdotty etc etc) and where you are from (Sunningdale/Glasgow etc). We'll also post the answer to your question!
2 Questions | 2 Answers
Displaying questions 1-2
Q:

Non poisonous plants for pots please

Hi I wonder if you can help. I have a Nursery school and am looking for some plants I can plant in pots, that are in a partly sunny, partly shady spot. They have to be plants that aren't poisonous and provide interest over as much of the year as possible. I really like the plants in you ready made border section on the website site, particularly shady pink, sunny pink and keep it cool. Could you please tell me if any of these plants are suitable for my needs? Many Thanks Joanne

Asked on 4/9/2010 by Happy Hearts Day Nursery

1 answer

Q:

Help with ferns to plant in large pots

I would like to buy some ferns to go in pots to grow along the side of my house. The site is not too shady. Could you suggest four different types that will not outgrow their pots too quickly? I have looked at the selection of ferns on your website and think they look fabulous. I look forward to hearing from you so that I can put in an order. Many thanks. Beryl

Asked on 3/9/2010 by Beryl Booker

1 answer
Displaying questions 1-2
Make the most of over 3000 years of gardening tradition by creating an oriental-style garden. Originally designed as a place for intellectual contemplation and meditation, they are an ideal sanctuary from the pressures of modern living. Japanese gardens a
Read full article