Briza media
Lesser quaking grass
Delivery options
Standard £4.99
Click & collect FREE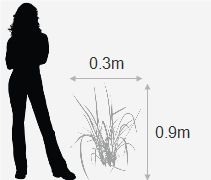 Ideal in containers, but as happy studding a hot, dry, sunny border, planted with traditional herbaceous plants (look terrific with Hemerocallis); handy in large swathes as ground cover; super for growing on difficult dry banks or rock and gravel gardens, and naturalises well

Position: full sun
Soil: any well-drained soil
Rate of growth: fast-growing
Flowering period: May to August
Flower colour: green becoming straw-coloured when ripe
Other features: the dried flower heads are useful for flower- arrangements; pale green leaves becoming straw-coloured
Hardiness: fully hardy

A tufted evergreen grass with purplish-tinted, green leaves. In summer locket-shaped, green-purple flowers, which fade to buff, hang from wory branches. Lovely in wildflower meadows, their flowers are excellent for drying.


Garden care: Cut down to the ground in late winter before the new foliage appears.
As the days shorten, the autumn sun sinks a little lower every day and begins to backlight the borders, picking up detail and silhouette. There's plenty to enjoy,- seed heads, in autumnal shades of brown and silver take centre stage, often lasting until m
Read full article