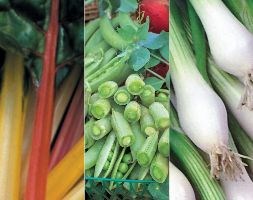 Crocus collections
John's Quick to Harvest Vegetable Collection
Choose the right early maturing vegetable varieties and you can harvest in a matter of a few weeks, here are some of the quickest maturing vegetables in my 'Quick to Harvest Vegetables Collection'
leaf beet 'Rainbow Chard' ready to harvest from 55 days A riotous mix of red, pink, white, yellow, purple and orange stems on the same robust, leafy plant make this the most colourful of all the leaf beets. Pick the generous crop of leaves young and eat raw as multicoloured baby salad leaves, or cook leaves and midribs separately as a dual-purpose side vegetable. The midribs make a tasty (and colourful) substitute for celery in cooking.


climbing French bean 'Blue Lake' ready to harvest from 58 days The perfect dual-purpose vegetable as it produces an abundant harvest of pencil-thin, stringless green beans with a fine, sweet flavour from early summer, and then the last few pods can be left on the plant to dry for white haricot beans to store. A climbing variety, making a decorative addition to any garden grown up a trellis or wigwam.


carrot 'Amsterdam Forcing' ready to harvest in little over 50 days The fastest of all carrot varieties to mature, this is a highly popular variety and one of the best choices for early and late sowings. Grown under glass in a cold frame or greenhouse it can be 'forced' for super-early crops. Pull young to enjoy their tender, sweet flavour at its best.


lettuce 'Salad Bowl' ready to harvest from 45 days The fresh lime green leaves of this light and crunchy lettuce shine out from the plot and are every bit as tasty as they look. Deeply-lobed, a little like an oak leaf, they are borne in profusion from a loose heart, so you can harvest the outer leaves over several weeks and it will continue producing more.


pak choi 'Joi Choi F1' ready to harvest from 42 days This beautiful-looking oriental vegetable looks delicate and very elegant with its broad pure white midribs and sculptural fluted shape. But it's bone hardy and can withstand even the fiercest of weather, making it the perfect winter salad ingredient. Mature plants can be cooked for a crisp and tasty spinach-like leaf vegetable: the central midribs are delicious sliced into stir-fries.


spring onion 'White Lisbon' ready to harvest from 60 daysA superb bulbing spring onion that's long been a firm favourite for reliability, with an excellent mild flavour that has just the right amount of bite. The tall, pure white skinned stems are quick to develop and very hardy, so you can start sowing early through till late autumn for delicious spring onions to pull right through the season. Spring onions make a great filler in between slow-growing veg like Brussels sprouts: sow into the gaps between plants to double your harvest from the same space. A heritage vaiety this variety was introduced before 1787.


pea Oregon 'Sugar Pod' ready to harvest from 65 days The first crop of mangetout peas is a keenly anticipated event on the veg plot, as this is one of the most exquisitely tender gourmet crops you can grow. This is the classic variety to choose with its large, flat, slightly curved pods around 10cm long – mouthwateringly sweet picked young and cooked whole in stir-fries or lightly steamed. The flowers are edible too and look pretty sprinkled over salads.


spinach 'Bloomsdale' ready to harvest from 45 daysA very prolific summer spinach that's been a gardener's favourite since Victorian times, producing generous harvests of deep green crinkled leaves with a beautiful rich, savoury flavour. The plants stand particularly well without bolting, even in dryer conditions, and two or three sowings through the season will give you pickings right through into autumn.


turnip 'Tokyo Cross' ready to harvest from 35 daysA super-fast variety, forming roots within little more than a month after sowing. Their pure white skins and perfectly spherical shape make them very striking to look at and they also have a fine, nutty flavour: when harvested as 'baby veg', as little as 3cm across, they're sweet enough to be eaten raw in salads.


radish 'French Breakfast 3' ready to harvest from little over 20 daysFor quick results there's nothing better than growing radishes, and this is a real classic: within four weeks of sowing you can expect to be pulling the peppery round roots with their characteristic red shoulders and white tips. Reliable, trouble-free and outstanding quality, they're uniformly tender and crunchy and a delicious way to pep up your summer salads. The flowers are edible too. A heritage introduced before 1885, this variety was a favorite among French market gardeners.



Crocus Special Offers
Buy all 10 items for the set
Sub Total£18.00
Discount -£3.01
Total: £14.99 Buy now
Availability: within 2 days (exc weekends)
items included (click on thumbnail for more info)
Plant
Price
Qty.
Availability
Total
rainbow chard
£1.40
1
within 2 days (exc weekends)
£1.40
carrot
£1.40
1
within 2 days (exc weekends)
£1.40
French bean
£2.00
1
within 2 days (exc weekends)
£2.00
lettuce (cut and come again)
£1.40
1
within 2 days (exc weekends)
£1.40
pak choi
£1.40
1
within 2 days (exc weekends)
£1.40
spring onion
£1.40
1
within 2 days (exc weekends)
£1.40
pea
£2.00
1
within 2 days (exc weekends)
£2.00
spinach
£1.39
1
within 2 days (exc weekends)
£1.39
turnip
£1.30
1
within 2 days (exc weekends)
£1.30
radish
£1.30
1
within 2 days (exc weekends)
£1.30