Crocus water saver
The new Water Saver from Crocus promises to save you from having to water your plants every day (also see our Best Buys for watering, p24).
It fits a rang of pots with diameters of 21-35cm and has three holes allowing the roots to tap down into the moisture.
Which? Gardening
June 2012
Crocus Rabbit proof and squirrel proof cloches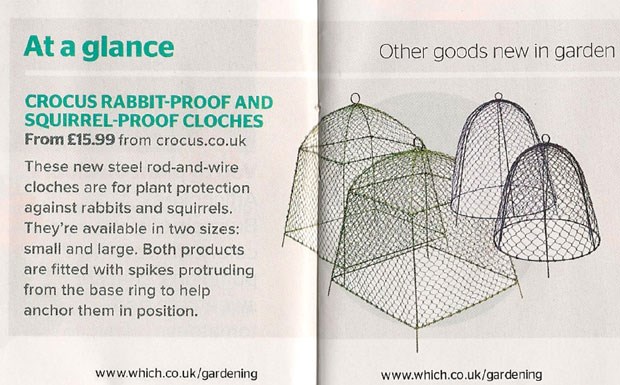 These new steel rod-and-wire cloches are for plant protection against rabbits and squirrels. They're availavble in two sizer: small and large. Both products are fitted with spikes protruding from the base ring to help anchor them in position.
Which? Gardening
May 2012
Which? investigates: Buying plants online
In our July/August issue we reported that the Which? Gardening team had a mixed experience ordering plants online this year, with problems including plants that were smaller that expected, damaged or diseased, the wrong colour or incorrectly labelled. We posted a story on Which? Conversation (conversation.which.co.uk), our website where Which? Members and the public can have their say on consumer issues. The story got a lot of responses. While some had more positive experiences ordering plants online, there were also several complaints.
A common gripe seems to be plants turning up later than promised, missing the window for planting (eg potato tubers that arrived in June). One respondent had even received dead plants. The experience of customer services departments also varied greatly; while some companies offered full refunds or vouchers to unhappy customer, others seemed less inclined to do so or were hard to get through to.
This, of course, wasn't a proper survey, more of an online snapshot. But one company that seems a stand out from the crowd is the online retailer Crocus, which sells more than a million plants a year. The company was praised for the quality of its plants, careful packaging and excellent customer service.
We asked Peter Clay, Crocus co- founder, how his company seems to get it so right. He told us: 'Before we started out, we did a lot of research, and became aware that many people had had a very poor experience of ordering (small plants) by mail order. We also knew that part of the joy of buying plants is making sure you pick out the best one in the row. So we felt that we had to grow a plant that was better than you'd get in a garden centre. The vast majority of our plants come in 2 or 3 litre pots, sometimes even bigger. They have better roots systems and, because there is more compost, they're less likely to dry out in transit. We also have two quality checks: one by the nursery staff, and one by the packing team.
'Getting plants delivered in time is clearly very important. Customers expect you to keep your promise if you say "Delivery within five days". We have a policy to try and deliver a day earlier than people expect.'As more and more of us are buying plants and gardening products online, there is clearly room for improvement from some online retailers. We'll be looking into this issue further, to build up and overall picture of which mail order suppliers you rate and which ones you don't.
Which? Gardening
October 2011