Dahlia 'Jescot Julie'
dahlia tuber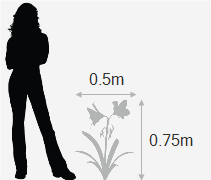 Position: full sun
Soil: fertile, humus-rich soil
Rate of growth: average
Flowering period: July to October
Hardiness: half hardy (will need winter protection)

Each ray floret (petal) has a delicious burnt orange upper surface, with a rich plum base, creating an interesting and colourful mix. They look sensational when mixed with deep, blood reds and dark golden tones. Growing up to 8cm across, the flowers appear in small clusters on the upright stems for a really long time from mid summer to the first frosts. They are also terrific when cut.


Garden care: Dahlia tubers can be planted outside after frost, or started off in pots under glass in late winter to early spring. Plant them horizontally approximately 12cm deep, making sure the 'eyes' are uppermost. Allow enough room between each tuber so the plants can grow and spread to their full size without being over-crowded. While in growth, provide a high-nitrogen liquid feed each week in June, then a high-potash fertiliser each week from July to September. Stake with canes or brushwood if it becomes necessary. In mild areas, leave them in situ over winter, but protect the crown with a generous layer of dry mulch. In colder areas, carefully lift and clean the tubers once the first frosts have blackened the foliage and allow them to dry naturally indoors. Then place the dry tubers in a shallow tray, just covered with slightly moist potting compost, sand or vermiculite and store in a frost-free place until planting out again.


Accurate Instructions
Attractive
Healthy
Comments about Crocus Dahlia'Jescot Julie':
For cutting. Lovely delicate and healthy flower borne on strong stems. Some insect finds the first petals quite tasty while ignoring neighboring dahlias. Only little nibbles though.
Your Gardening Experience:
Experienced
Comment on this review