This classic Victorian pot was incredibly popular in an era when British gardening was the model for the rest of the world.

Practical then and still stylish now, this pot has exceptional uniformity, consistency and beauty. Perfect for all plants and available in a range of sizes. Frost-proof down to -15 degrees C.

We recommend using the 11cm x 9cm high pots in our cast iron pot holders.

Measurements:
Ø9cm × H7.6cm
Ø11cm × H9cm
Ø15cm x H13.4cm
Ø19cm × H17.5cm
Ø23cm x H19.5cm
Ø29cm x H23.4cm
Ø33cm x H27cm
Ø35cm x H29cm
Ø37cm x H31cm
Ø43cm x H35cm
Ø50cm x H41cm
Love the pot, my plant looks great in it!
Nice pot, good size, came in good condition.
Marija
London
These are really good for growing tomatoes
Ollie
Worcester
I would buy this product again
I'm using this product for Christmas decorations
Jazz
London
Excellent packaging pots arrived in perfect condition
I used these for a craft project with my children. We decorated them with metallic paint and string and planted Aloe plants in them as Christmas gifts
Professional Childminder
Manchester
Brilliant compared to plastic plants seem to thrive
Best for growing plants on
none
DURHAM
I've used these pots for a variety of seasonal planting displays .... even had chili's in them this summer - fantastic quality pots that are simple and versatile.
Ash
Cranwell
I always buy my pots from Crocus
I always buy my Classic Terracotta pots from Crocus. They are good value, good quality and always arrived expertly packaged. I have ordered pots in bulk from other stockists but they always arrive with at least one or two broken or faulty, but the pots I've received from Crocus have always arrived intact. They are also the best value pots I have come across online. This is why I'm a repeat customer!
Jenpegs
Bristol
Excellent source of terracotta pots.
Good quality and value product
Tullybeagles grower
Perthshire
Exactly what I needed and could not find anywhere else
Jose
London E14
Recently had a good long look at all my odd potts, decided to standardise a series of them to best show the plants. These have done the job with style.
handy man
kent
Classic terracotta pot
100.0
Hi, What size plastic pot would you recommend for the 9cm pot? Will a 9cm plastic pot fit? Cheers

Rhiannon

Hello, If you want to slip a 9cm plastic pot inside the terracotta pot, then I would opt for the next size up.

Helen
I would like to purchase enough pots to make a large ball and need to have dimensions of each pot to estimate how many I will need. I intend to use the 11cm pots for this. Can you provide dimensions for: top diameter, bottom diameter, overall height and length of parallel portion at top. Thanks in anticipation of a prompt reply.

Dr D

Hello, The measurements you requested are as follows; Top diameter - 11cm Bottom Diameter - 7cm Height - 10 cm Parallel portion at top - approx 2.5cm Hope this helps!

Andy
If I am buying a 23cm wide pot, what size saucer do I get? Thanks.

Tonja

Good morning, Thank you for your query, Many apologies for the delay in getting back to you. We would recommend the Plain Saucer 19cm for a 23cm Plain Pot. as the base of the 23cm Plain Pot is 13.5cm.
do you have saucers for the terrocota pots please.

Tony

Hello, We do sell terracotta saucers too - please click on the following link to go straight to them. http://www.crocus.co.uk/product/_/terracotta-saucer/classid.2000022770/

Helen
Are these pots made from terracotta/clay or does terracotta refer to the colour of the pot?

Rapha

Hello, Yes these pots are made from clay and are fired at a very high temperature.

Helen
Do these have a drainage hole in the bottom?

Kimmy

Yes these terracotta pots do have a central drainage hole at the base.

Product Buyer, Crocus

There was a time when alliums were thought of only as vegetables. However, the taller varieties with their huge globe flower heads are now one of the stars of the architectural plant world. The stiff lollipop heads off-setting sharp vertical leaves, tall,
Read full article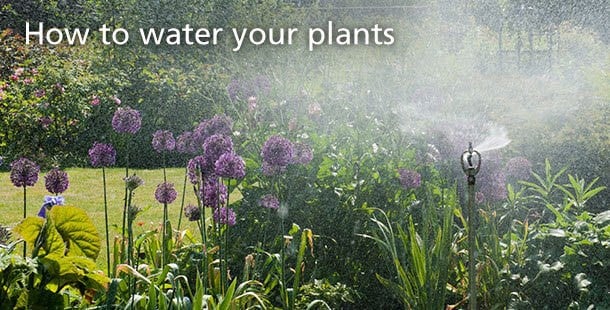 Watering the garden can take a lot of time during the summer months, especially if there is a prolonged dry spell. If you are new to gardening, it is easy to think the simplest solution is to unravel the hose each evening and shower the whole garden using
Read full article