Position: bright but not in full sun
Soil: good quality potting compost
Flowering period: December to March
Hardiness: frost tender (will need winter protection)
Bulb size: 26/28

An interesting houseplant with spectacular funnel-shaped flowers. Groups of up to four flowers appear on tall stems before the strap-like green leaves. The stunning blooms appear about six to eight weeks after planting, and with careful timing you could have a lovely display just in time for Christmas. Presented in a lovely growing jar with decorative stones to plant the amaryllis in.


General care: Fill the jar with the stones, setting the bulb in the stone so that the top two thirds are exposed. Water the stones lightly watering too much just after potting can cause the bulb to rot. Keep the plant in a sunny spot, though not direct sun and rotate the plant so as to avoid the flower stalk leaning towards the light. . Full growing instructions are sent with this item.
Eventual height & spread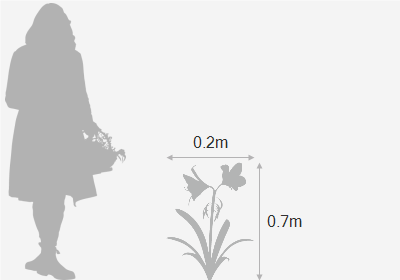 If rabbits, deer, squirrels or cats devour or scratch up your plants these wire mesh protectors will give them time to get established. The pyramid-shaped 'Rabbit Proof Cloche' and dome-shaped 'Squirrel Proof Cloche'
Read full article