They are incredibly popular, are great fun and there are some terrific bargains to be had. As we usually don't get to throw open our doors to the general public, we relish the opportunity to meet our customers - and it appears the feeling is mutual. You will want to allocate lots of time to have a good look around as we have a 30 acre site with well over 2,500 different plants, most of which are sold off at a reduced rate on the day. You may be able to pick up some great deals on products too!
1. Wear suitable clothing appropriate for a working nursery (no stilettoes required). Be prepared to see tractors and forklifts in operation and be aware that there are uneven surfaces, ditches and trip hazards on site so do take care. Children usually enjoy their visit to the nursery, but they should be supervised at all times.
2. On arrival you will be directed to the parking area. Once in, head straight to our 'meet and greet' post where you will be given a handout with some general information about the nursery, a pricing guide and a list of our super-special offers for the day. You will also be given a strip (or two) of uniquely numbered, sticky labels*, which can be used to buy plants if you wish. (*there's more about these in the 'how to buy plants section' below)
3. Most of our nursery staff are Polish. They know the nursery like the back of their hands, but struggle with their English. If you have any garden-related questions, please look out for the Crocus staff members who are wearing the blue hi-vis jackets as these people really know their plants. If you don't see a 'blue jacket' while on the nursery, you will find one at the checkout.
4. We have thousands of beautiful plants on the nursery to choose from, but they are regularly moved about to make room for new stock so they are not always laid out in alphabetical order. This makes it very difficult for people who come with a list! We recommend you buy your list online, and use your visit to top up with a few specials.
5. There will be the opportunity to buy a snack or a cup of tea, and we also have customer toilets on site.
How to buy plants on our open day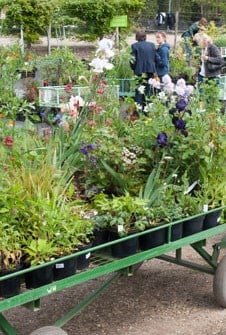 1. After being met and given your handout and uniquely numbered sticky labels (make sure you ask for extra if you are planning on buying lots of plants), please feel free to roam about the open areas of the nursery.
2. If you see a plant you want to buy, peel off one of your sticky labels and pop it on the side of the pot.
3. Leave the pot at the side of the walkway, where one of our team can easily spot it.
4. We will be whizzing around the nursery at regular intervals in buggies, collecting up the plants and placing them into correspondingly numbered trays, which are kept in a separate checkout pen.
5. When you are ready to collect your plants, make your way to the checkout pen and they will be waiting for you there.
6. Once you have your plants, please take them over to the tills (they are in the polytunnel next door) and we can then tot up your purchases and take payment.
7. We accept most credit cards (not American Express) as well as cash, unfortunately we are unable to accept gift vouchers on open days
8. We have trolleys and big strapping lads to help get large purchases to your car.