There's one group of plants you can't go wrong with and that's spring-flowering bulbs, because each little round bundle of brown paper is primed to explode into flower next spring. You simply can't go wrong. One of the best ways to make an impact is to grow some potfuls, because that concentrates the colour in one place without breaking the bank. It's very useful in smaller gardens and you can ring the changes for at least two months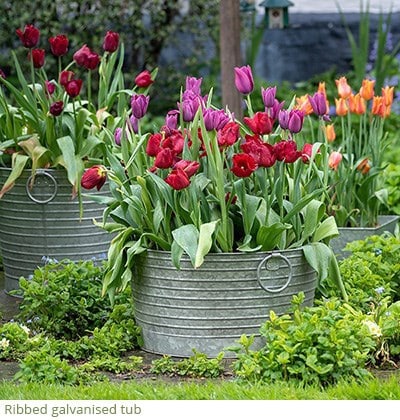 You don't need a magic wand either. All you have to do is add some good compost and modest amounts of water. The pots need to be rugged enough to withstand winter, so frost-proof terracotta, stone or wood are the most suitable materials. They should also have a low centre of gravity, because narrow-bottomed pots will tip over in the wind. Squat and sturdy are the order of the day for winter use, and always add a label!
Order your bulbs now, because the popular ones sell out fast. Most should be planted in September, because daffodils, muscari, crocus, alliums, scillas, miniature irises and winter aconites need time to develop good systems. Tulips should wait until the weather cools a little, because they're prone to a fungal disease, so they normally go in from mid-October onwards. Therefore, when your tulips arrive, store them somewhere cool and dry, until planting time.
Growing bulbs in pots has several advantages. It's far easier than planting bulbs in the ground, because it can be done in a shed or greenhouse, although mega-large pots may have to be done in situ. You can layer bulbs up and this is especially good with tulips, because later flowering May varieties can be placed underneath earlier April-flowering ones, to give at least four weeks of flower. If you're planning this, always use a Triumph tulip, because these will flower in the second half of April. Their egg-shaped blooms come in bright colours, because these are raised for the cut-flower trade. Once planted, give your bulbs a good watering, but thereafter try to keep the compost on the drier side so that the roots have to search for water.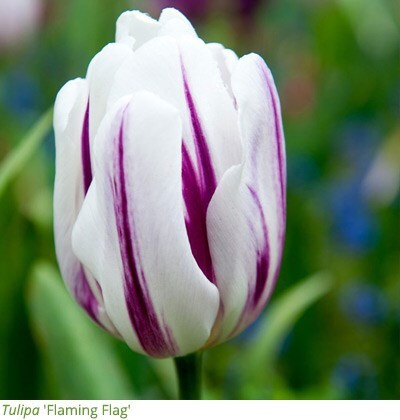 Wet compost causes bulbs to rot, so make sure the bulbs don't get waterlogged during winter. Place your pots in the lea of the house, away from prevailing rain, and protect them from squirrels and mice with a covering of chicken wire. Move them into place, once you see some growth above ground. If April and May are unseasonably hot, prolong the flowering time of tulips by moving your pots. into a shadier position. Experiment and ring the changes, when it comes to varieties. The best way to try new things is to plant a few of each in smaller pots so that you can assess them.
Keep your recipe simple, especially in smaller pots, using one or two bulb varieties that match the height of the container. A shorter trough, for instance, is perfect for hyacinths and miniature narcissi, but would look out of balance planted with a tall tulip or narcissi. Similarly a tall pot needs a taller bulb, about two thirds the height of the pot is an ideal ratio of plant to pot. If you like simple elegance, go for a single variety. The viridiflora tulip 'Spring Green', for instance, is a cool addition in shadier places because the green and white flowers flatter rich-green foliage that might include hardy ferns. It will also flower for two or three years in the same pot.
Opt for a flowering month and decide on a colour theme that works. Consider scent as well. Hyacinths have the most penetrating perfume of all, although certain narcissi also belt out the perfume. When it comes to daffodils, yellow-flowered forms are often the earliest and creams and whites follow on.
Early Combos - Yellows and Blues
It's shorter bulbs that tend to flower earlier in the year and amongst the most useful is a mid-blue reticulate iris called 'Harmony', which is lovely planted on its own surrounded by a swirl of garden moss. The dash of yellow on the falls adds a touch of zing and this can be used in borders or pots, with a miniature yellow narcissi, such as 'Eaton Song' or 'Tête-à-Tête'. The sword-shaped iris foliage does get taller as blue flowers fade, but remains neat and manageable. Or you might use winter aconites which can also be pot grown.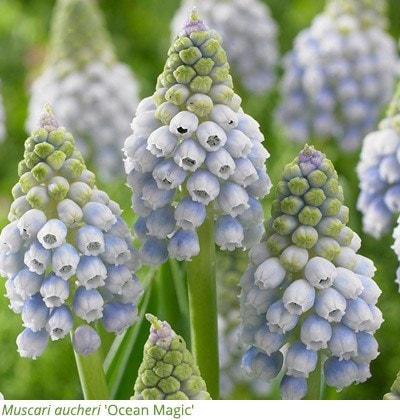 Muscari, or grape hyacinths, flower in April in most springs and they can be used as a starter for tulips, or with shorter April-flowering daffodils. Their upright, tight heads of flowers go well with a ragged old-fashioned double named 'Rip van Winkle', and the ultra-neat 'Minnow'. The deep-blue and dark-topped Muscari latifolium would also work well with 'Eaton Song', a narcissi with swept-back yellow petals and a slightly-flared orange cup. This has an AGM, or you could use another AGM variety with white petals and a creamy cup - 'Sailboat'. Muscari also make good single pots, especially if raised up on a plant theatre.
Muscari armeniacum, which is an invasive spreader in the garden, can be contained in a pot. It's bee-friendly and cuts well, or you could use the much-better behaved pale-blue 'Ocean Magic'. If you want a waft of cobalt-blue, the adaptable Scilla siberica will flower in shade and the bright-green provides a striking contrast.
True-blue hyacinths, for outdoor use, will tend to flower in April, and the blue varieties are the most scented. 'Purple Star' is one of the gas-light colours that hovers between pink and blue and this flickering-flame could be planted on its own. The china-blue 'Delft Blue', the smokier grey-blue 'Sky Jacket' and the almost navy-blue 'Peter Stuyvesant' could be planted with an early custard-yellow small-flowered crocus called 'Cream Beauty'. 'Gipsy Girl' (a pallid-yellow feathered in violet), 'Romance' (a soft-yellow) and 'Advance' (a warm-yellow blushed with blueberry) would also work well. These smaller-flowered crocus will perform in early February, but they fade well, and they will be over before the hyacinths start. Hyacinths and small-flowered crocus can both be relegated to a border afterwards and hyacinths gradually morph into smaller-flowered wildings bit by bit.
Elegant White
White hyacinths and crocus look deliciously cool when grown in simple pots, and the crocus 'Jeanne d'Arc' is a classic white variety that holds its head up well. Hyacinth 'White Pearl' is equally good. All whites look most handsome in dappled shade, rather than direct sunlight, and you could also use the classic lily-flowered tulip 'White Triumphator'. The addition of small viola, in purple or almost black works well with pale and ghostly tulips. Or you could use a tiny-flowered yellow pansy with blue bulbs.
If you're planning to grow indoor hyacinths for use at Christmas or in the New Year, you'll need specially treated bulbs. Once planted these need to go into a dark, cool place for roughly six weeks, until the shoots have appeared. You should always wear gloves when handling hyacinths, because they irritate the skin.
Tulip Time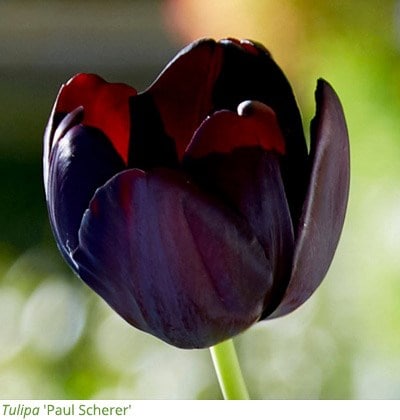 There's no doubt about it, though. Once April arrives the tulip dominates and really lifts the garden, which is full of foliage rather than flower. There's a rainbow of colour available and the brown-sugar shades are highly popular with flower arrangers. If you're using 'La Belle Epoque', a tulip that always sells out early, with 'Salmon Van Eijk', add a darker tulip too such as 'Havran' or 'Paul Scherer' otherwise your container may look too anaemic. These dark tulips both have far more light and life than 'Queen of Night', which can look too sombre.
Plums and pink will always be popular, especially in gardens containing pink cherry blossom, or a flowering, pink-toned crab apple. The plum and pink tulip collection contains the purple-flamed 'Rem's Favourite', the deep-purple 'Negrita' and muted mottled mauve 'Shirley, a combination that works in pots or borders. These flourish in late-April, so if you want to extend it add a brooding May tulip such as 'Café Noir', or the lily-flowered purple 'Maytime'. 'Shirley' opens cream and then develops its purple haze - so don't panic!
The brandy snap tulip collection contains snazzy oranges and brown-blacks. The vibrant 'Orange Cassini' and the blackcurrant 'Havran' are tied together by 'Slawa', a bicoloured wine-red tulip with a broad peachy orange edge. Even more dramatic, the Baroque tulip collection contains 'Black Hero', the double form of 'Queen of Night'. Layers of dark petals gradually open in May, to form black artichokes of flower, and this is perfect on its own too. Here it chimes with a yellow and chocolate-red 'Gavota' and a striking purple named 'Ronaldo'.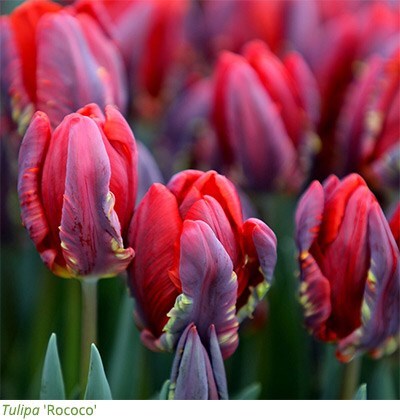 Parrot tulips are also good in containers, because they tend to flounce and flop a little. They offer long-lasting presence because their ruffled buds, reminiscent of naked fledglings in a nest, gradually colour up but generally retain hints of vivid-green. 'Rococo' is an ornate red to purple. 'Libretto Parrot' is a vanilla ice-cream with pistachio streaks, and 'Victoria's Secret' is a blackcurrant and raspberry swirl on a stick. Parrots combine soft romance and decadence. 'Amazing Parrot' is one of those fashionable shot-silk colours that hovers between apricot and pink. It will tone with so many tulips - whether sultry and dark, or softly gentle.
If you're debating what to plant, there's no doubt that tulips go the extra mile and lift the garden to another level, just as it's getting going. They're invaluable and, planted in pots, they'll give you pops of colour that really make a difference.