Water adds a special type of magic to a garden, whether it's a soothing trickle to calm the nerves, or a placid rill with a built in mirror creating a Monet-like reflection, or a wildlife pond where dragonflies dart over the water in high summer. Whichever you go for, water will always attract wildlife - for the blackbird will take a bath just about anywhere. Frogs, newts and toads, all in decline, will soon find a new pond and then help you out with your slug problem. If you're a wildlife enthusiast though, don't introduce fish: they'll gobble up the tiny tadpoles in no time.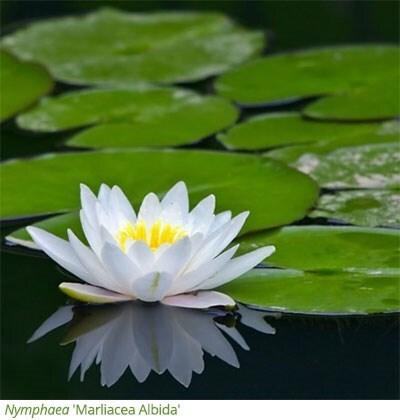 Adding suitable plants will depend on which type of water feature you're planning on, and that will probably depend on your gardening style and your house. Formal ponds generally have straight sides and clean lines so you'll want to keep the planting equally elegant, simple and minimalistic. If you're in the countryside you're likely to favour natural looking plants in a curvaceous pond. Choosing the right plants will depend on the size of your pond because many a wild water plant, including the pond iris and bulrush, will soon fill a small pond leaving no room for water. If you can create levels within the pond, to include a shallow shelf as well as deeper water, you'll be able to use a wider range or pond plants that includes marginal plants for the muddy edges and water-purifying floaters.
Water lilies have a foot in both camps so they can be used in formal water features or wilder settings because they glide over the water anchored to the ground in an aquatic basket. This is the ideal time to plant one, between mid-spring and midsummer. Begin by placing them in shallower water, roughly nine inches deep, using bricks if you have to. Once they've got going move them into deeper water that's over a foot deep because this will help them to survive in colder winters.
Then, in May, they will begin to send leaves to the surface, encouraged by warmer water. Once established a water lily will send up a succession of flowers throughout the season. Removing any fading foliage and flower helps to keep the plant looking just so. Once winter comes, the plant will become dormant protected from the worst of the weather by deeper water. They prefer still water and won't appreciate a splashing water feature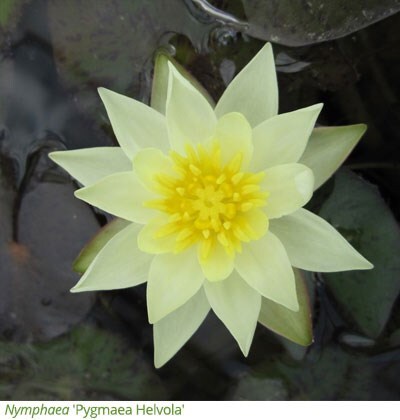 Water lilies grow at different rates so if you're dealing with a smaller area, the miniature Nymphaea 'Pygmaea Helvola' would be ideal because the pallid-yellow flowers are framed by green leaves attractively dappled in darker spots. If you've got more space and prefer a brighter yellow waterlily opt for Nymphaea 'Yellow Sensation'. There is also a semi-evergreen moonlight yellow water lily called 'Marliacea Chromatell'. 'Marliacea Albida' is an open white with pointed petals set round a lemon-yellow bass of stamens. There is also a pale pink form, named 'Marliacea Carnea', with the same floral arrangement of cupped petals. This is said to have a vanilla scent and bees, butterflies and hoverflies do visit.
If you prefer a brighter waterlily, Nymphaea 'Attraction' has reddish pink bowl-shaped flowers. Nymphaea 'Charles de Meurville' is more of a burgundy-pink. Most water lilies will cover between a metre and a metre and a half fairly quickly. As the plant matures it should be given a larger pond basket. These plastic baskets keep the plant in one place and make them easier to move about.
Formal ponds could also support parts of Iris ensata, commonly called the Japanese water iris. These are not deep water plants and pots should only stand in about 6 inches of water. Flowers will appear between May and July and the straight species has dark-purple flowers enhanced by a vivid-yellow beard. The shorter falls are balanced by much larger falls. There is a variegated form with tastefully striped foliage. The white form of Iris ensata will add a touch of sophistication to a rill or pond with a dark bottom.
The Japanese water iris offers clean verticals, and you could also use a plant with green stands decorated with dark horizontal bands to create the same effect. Commonly called the Dutch rush, Equisetum ramosissimum var. japonicum is a horsetail or mare's tail so this has to be planted with care because it could become invasive. However restricted by a deep pot it can be lifted in and out of the pond when needed.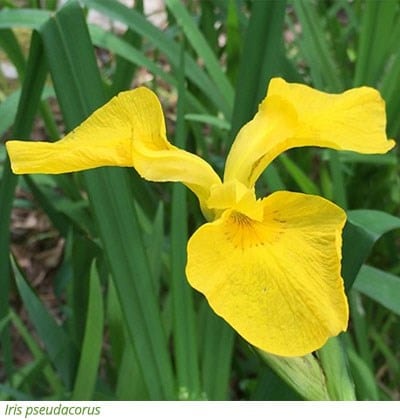 You don't have to be formal when it comes to ponds though and the most attractive wildlife ponds sustain wildlife using a selection of native plants. The size of your pond will dictate what you plant for the pond iris, Iris pseudacorus, needs a vast amount of space and will soon outgrow a smaller pond and then you'll be faced with having to dig it out! If you have a larger area the yellow flowers looked resplendent in early summer. It's worth remembering that this is the iris that allowed a whole army to cross the River Rhine when Clovis was under attack from the Goths. When Clovis saw the sheet of yellow growing into the river he knew it was shallow enough to cross. He became a Christian and, when he was crowned King of France, he substituted the three toads on the coat of arms for three irises. This is possibly the origin of the fleur-de-lis.
The other plant you'll want to avoid in a small pond is the lesser bulrush, Typha angustifolia, because it is equally invasive. However if you've got the room, it's a handsome addition. There are plenty of other native plants and water soldier (Stratiotes aloides) is one of the most useful because the green leafy rosettes float to the surface in summer and produce simple white flowers. After summer fades it retreats underwater for another year. It's far better to stick to British natives when it comes to pond plants because perfectly well-behaved plants from other countries can spread through waterways and cause havoc. Crassula helmsii, the New Zealand Pigmyweed, was introduced in the 1970's and spread quickly, out-competing every other plant. It clogged up waterways without offering anything to British wildlife.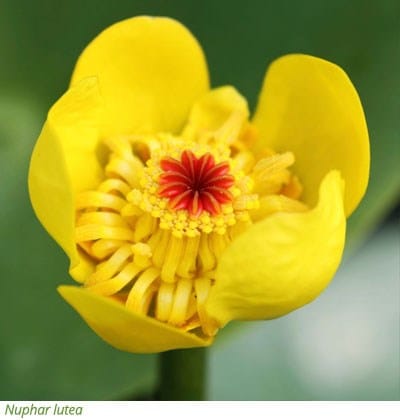 Hornwort, Ceratophyllum demersum, is a safe British native. It will float on the surface of the water and oxygenate your pond without any risk of endangering our native flora. In summer it will produce strings of green foliage and in winter it will disappear into the muddy layer below the water. Our native water lily Nuphar lutea, commonly called the brandy bottle because the small, bright yellow flowers have a globular appearance, is another great pond plant for a largish wildlife pond. Whenever you plant up a pond you'll find some plants begin to take over and may need to be reduced. This is an easier task to do in early summer when your plants are just getting going. Children will love to help!
There are plenty of plants to add to the marshy edges and they generally survive just above the waterline or in a few inches of water. In spring marsh marigolds (Caltha palustris) produce highly lacquered yellow flowers set above bright-green rounded foliage. They resemble giant buttercups and they generally flower just as spring warms up. There is a white form as well. You could also invest in a set of wildflower plugs for a damp meadow. Seek out Wildflowers for a boggy meadow and you'll be sent 104 plants for a damp meadow. Now include purple loosestrife (Lythrum salicaria), a summer flowering plant that produces spikes of purplish pink flowers in early summer. It will follow the marsh marigold. You'll also get ragged robin (Lychnis flos-cuculi), and this will create a delicate haze of pink if planted close together. This moisture loving member of the pink family loves a damp spot and, if you have a wildlife pond, the overspill after heavy rain often creates the right conditions for moisture loving natives.
Sedges also prefer damp soil, generally, and the curly-whirly stems of Juncus effusus f. spiralis, the corkscrew rush are probably better suited to a formal setting so that the arrangement of crazy stems can be appreciated. Although this would be happier in shallow water a few inches deep, it could also be floated on an island planter in deeper water.
It won't be just the plants that fascinate you though, you'll find lots of activity round your pond and you may be lucky enough to find swallows gathering mud for their nests if you've got a large wildlife pond. It's another dimension.