It is such a lovely feeling when you can actually start to feel the warmth from spring sunshine on your back, filtering through your several layers of clothing. What a eureka moment that is! That is when you know that the ground will finally be starting to heat up and you can start planting again - all sorts of things including clematis. These wonderful climbers take up little ground space, so even a small garden can enjoy their gorgeous flowers for almost every month of the year starting with the early spring beauties.
March and April Flowering Clematis
By late March the buds of spring-flowering clematis (like the macropetalas and alpinas) begin to swell up before they produce their flowers. These vary from wispy ballerina tutus to clean-cut ragged Peter Pan suits. The colours are mainly mid-blue and mauve-pink, but you can find purples and whites too. This group are known as the Atragenes, a mix of species that tend to come from cold, high regions with almost Alpine climates. Like all alpines they demand good drainage and dislike heavy wet soil. You can put lots of grit at the base of the planting hole, but I prefer to tuck mine close to shrubs where the ground has been drained by a network of woody roots. I angle the clematis into the shrub as I plant, untie the stems and remove those annoying plastic ties, before weaving the clematis through. Then I let them get on with it. Although I will water in dry springs, with warmed buckets gently tipped over each plant.

Admittedly the Atragene Group are slower to establish than many clematis. For this reason they should never be pruned hard. Give them a neat spruce after flowering, but only if you need to. Their chief attribute is their ability to survive in cold windy places, due to their alpine provenance. The flowers always appear as the foliage breaks and this explosion of fresh flower set against spring-green leaf is a huge part of their charm. The flowers can also be picked for a small posy vase.
Wispy Macropetalas

Atragene is the ancient Greek name for clematis, meaning firecracker. Apparently the dry branches of clematis explode noisily when put on a fire. I really want to try this at home. The tutu skirts are labelled under Clematis macropetalas and one of the best and easiest to grow is 'Markham's Pink' bred by William Robinson's Head Gardener at Gravetye Manor in West Sussex. Introduced in 1935, but definitely older, this is a wide mid-pink with touches of cerise at the heart. 'Wesselton', selected by the late Jim Fisk in the late 1990s and named after his Suffolk village near Dunwich, has larger spiders than many in a deeper shade of blue. It's reminiscent of English bluebells in tone, although the tips are paler. 'Lagoon' ( from the famous Jackman nursery in 1958/59) forms a blue, open four-pointed star with a paler middle.
Starry Alpinas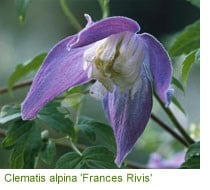 The crisper alpinas have four pointed tepals (petal-like segments)which are borne on the previous years stems.These tough, hardy plants are good for exposed cold sites, happily scrambling through shrubs and hedges, with no pruning needed. If they need to be restricted you can trim back after flowering, otherwise let them do their thing. The species C. alpina has small mid-blue bell-shaped flowers, with creamy-white centres from early spring which then mature to give attractive fluffy seed heads for added interest in the autumn. 'Cl.Frances Rivis' is perhaps one of the best alpinas. It was raised by a Suffolk gardener of the same name in 1900, from seed and reliably has masses of purple-blue slightly twisted tepals from early spring no matter what the weather throws at it. The more open nodding bell-shaped flowers on C. 'Frankie' are equally prolific.These light to mid-blue blooms with a creamy-white exposed petaloid stamens look so delicate against the mid green foliage, but they are surprisingly sturdy surviving an east or west facing aspect. As with all of the alpinas they need a well drained soil in sun or partial shade.
 
Other spring flowering clematis

Clematis koreana is very similar to the alpina with the bell shaped flowers, but it flowers a little later in early May. Clematis koreana 'Amber is a particularly lovely new form being voted RHS Chelsea Plant of the Year 2016, and it is easy to understand why. It is unusual to start with as you don't see many yellow clematis so this makes it very special, but also the soft yellow nodding flowerheads, which sometimes have a faint pink blush to the edges of the pointed sepals are relatively long flowering, often with a second flush in the autumn. If you haven't got the right spot for this beauty it is compact enough to grow it in a large pot.

All of the above are deciduous climbers but sometimes you want an early spring flowering evergreen clematis for a sheltered spot, and there are a few lovely forms to choose from. Cl. cartmanii is a group that originates from New Zealand needing a free draining soil and a south or west facing aspect. Cl. 'Early Sensation' is a delightful, delicate cultivar with finely divided foliage emerging as bronze, then as it matures becoming green, with many scented bell to cup-shaped small white flowers with a greenish-cream centre, perfect for a sunny sheltered warm wall, or a conservatory to enjoy the scent. Likewise Cl. × cartmanii hort. 'Joe' needs protection, but if you can give it the right conditions it will reward you with a mass of small wax-like pure white blooms on purple tinted stems, or there is a gorgeous new introduction Cl. 'Ovation'. This is a bushy but compact climber with plenty of pretty creamy white flowers, with a central boss of lime green stamens from April, and fluffy seedheads in the autumn. Its scrambling evergreen habit is useful for tumbling over edges of pots, or on slopes and banks as groundcover in a sheltered spot. One more to mention is Cl. 'Fragrant Oberon', a new and rather lovely clematis which is proving to be very popular. This is a slightly hardier form than the ones above, with a profusion of highly scented, (meant to be the most fragrant clematis so far) small, creamy-white satin sheened flowers, often flushed with green, surrounding prominent lime green stamens from March onwards. Plant it where you can appreciate the perfume and admire the flowers against the glossy, green evergreen foliage.
May Montanas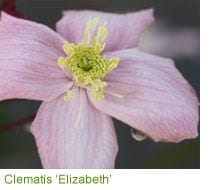 In May the deciduous montanas begin to break into bud. These hail from the Himalaya and can be seen scrambling high into trees. These are the ones that cover the shed, or tickle the bedroom window, or attempt to mask the oil tank. However montanas need warmth despite their Himalayan roots so again they are only tidied after flowering. They can be seen clinging to many house walls and garages, easily smothering them with masses of delicate flower. Habit and vigour vary, and over the years there have been a number of new exciting introductions but 'Tetrarose' is a popular modern vigorous tetraploid with bold mauve-pink almond-scented flowers and bronze tinted foliage.

The gentler, pale-pink 'Elizabeth' has gappy flowers held on long stems, again with sweetly scented flowers when fully open, or the beautiful 'Freda' with bright cherry-pink star-shaped flowers in May and June amid purple-flushed, mid-green leaves. Many popular montanas have an RHS AGM awarded to them, but there is a less well known variety called 'Broughton Star' also accorded this accolade. This variety has charming and unusual double or semi-double, scented deep pink blooms and deep green foliage which emerges with a bronze tinge. Although vigorous it isn't as rampant as some of the other forms. If you like the purity of a white flower then Clematis montana var. 'Grandiflora' is a stunner, but not for a small garden. This climber will easily cover an unsightly wall or fence, smothering it with its single star-shaped pure white flowers. Cl.'Miss Christine', may not be quite as vigorous as some of its cousins but it is still a montana with a whisper of pale pink on the white, deliciously scented flowers.
Later spring beauties
All of the above clematis in this article are spring flowering clematis which are classed as Group 1, however there are a few Group 2 clematis, that flower on the cusp of spring from May onwards which are worth a mention if you want to have almost a seamless stream of flowers.

Cl. 'Meghan' is a new introduction and is a stunner. Flowering from May to June, and then often again in early autumn with large, single saucer-shaped blooms in a magnificent rich, magenta-purple, certain to add a punch to your border or a large patio pot. Another equally gorgeous new large flowering variety is Cl. Paradiso with a distinctive colouring. Predominantly a very soft pinkish violet shade, with a darker trim around the edges and a cluster of golden yellow anthers. Again this clematis is a one that can flower twice a year….and definitely isn't a shrinking violet!
Pruning clematis
All of the above clematis in this article are spring flowering clematis. People often worry when it comes to pruning clematis but really it is quite easy. There are three main pruning groups:-
- Group 1 is the early-flowering types which need no regular pruning. - Group 2 is the large-flowered early-summer bloomers which should be given a light trim after flowering. Then, in late winter or early spring the stems should be cut back to a healthy pair of buds. - Group 3 has those that flower in late summer. These should be cut back to the lowest pair of healthy buds, ideally around 15-30cm above soil level in late winter or early spring.