'Easy-peasy' blackberries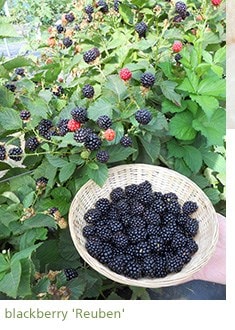 With a little bit of forward planning anyone could be picking fresh, vitamin-packed, flavoursome, fruit from their garden, which most importantly, are easy to grow. Look for plants with an AGM award, -these are plants that are chosen by a panel of experts trialling for the RHS which are considered to be the best. These plants have beaten their rivals to the finishing post!
Blackberries are enjoying a revival because there's so much new breeding, especially in America where this berry reigns supreme. 'Reuben' is a new, upright American variety that fruits on this year's wood. All the wood should be cut away in the second half of winter to encourage vigorous growth in the following spring. Once the canes have developed, tip them back by a couple of inches to promote the side shoots. This is a good tip with all cane fruits.



Most traditional varieties fruit on one year old wood, so the old blackberry canes are cut away after fruiting to leave the new ones to flourish. Traditional blackberries treated in this way include the Scottish-bred 'Loch Ness', which crops heavily in mid-August for roughly four weeks. It's also not thorny. Blackberries can be wall-trained on the sunny side of a shed or outbuilding so they can take up little space. 'Ouachita', an American-bred variety with huge berries, has firm yet extremely tasty fruits. It is more upright than many. 'Oregon Thornless' combines divided, ornate foliage with a modest number of berries so it is often trained onto a pergola with roses and clematis. They all need rigid supports they can be tied onto.
Bramble flowers sustain lots of pollinators and the fruit of modern varieties is sweet enough to eat raw. It also looks luscious. Although bombproof once established and not that fussy about where they grow, blackberries can be tricky to get going and they will not thrive on wet soil, so it's worth preparing the ground well before you plant. Add garden compost, or loam-based compost mixed with grit to improve the drainage in the early stages. Once established they are fine, but blackberries will fail on sticky clay unless you improve it.