Lavendins


When the heat bounces off the ground and almost overwhelms you some plants are revelling in this heat. On scorching days in high summer you won't have to touch the foliage at all, it will waft through the air providing an aromatherapy session for the gardener that's both relaxing and soothing.

Whether it's the lavender, sage, rosemary or thyme throughout the year you can massage their oily foliage and smell their rich aroma. This oily coating is a sunscreen and many of the plants are either silver, a colour that doesn't absorb much heat, or have needle-like leaves to cut down on water loss. However any aromatic plant must have a sunny position in well-drained soil. It will sulk in any shade.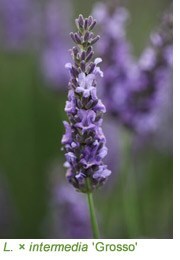 Lavendins are a group of hybrid lavenders listed as Lavandula x intermedia. They are widely grown in France for their oil and they are much larger and more robust and also flower later. They make rounded loose bushes and the long stems are topped with tapering flower spikes in late-summer, rather than the thick spikes borne by English lavender in early July.

'Grosso' has a distinct habit because it splays its purple-blue flowers out, rather like quills on a porcupine. The foliage is much greener than most lavenders and it can look out of place among too many silvers. However it is a fine specimen plant for sunny borders. It's named after the French farmer who spotted it in 1972, a M. Pierre Grosso, and it's now widely grown throughout the world because of its long-lived qualities and the abundance of camphor-like oil it produces. This is used to make pot pourris, detergents, washing powders and softeners. English lavender oil is the one used in perfumes and cosmetics - because it's more refined.
Lavendins are hardy in well-drained soil, but they flower too late to get a short back and sides in early August. Instead, trim them back after flowering to shape them into roundels, cutting into the top of the foliage in September if possible. They can form good winter silhouettes and, should you want them to shine in winter, cut into them by mid-September and shape them a little tighter into roundels. In hard winters they can suffer damage - just cut any dead wood away in mid-April and they will recover.