Mangetout peas

I never used to bother growing mangetouts. They didn't appeal to my ever-practical nature, but then a couple of years ago I was given a packet of the sumptuously-coloured 'Shiraz', a purple mangetout so beautiful it's a shame to pick it. The flowers are even more lovely, like a bicoloured sweet pea in mauve and cerise.
I thought that was good: but then this year, not being organised enough to get hold of some more 'Shiraz', I grabbed a packet of the standard green mangetout.
Oh. My. Goodness.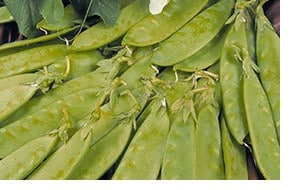 Forget practicality. Forget being organised and storing stuff for winter and having plenty in the freezer. I have been missing the point for years. This is what veg growing is all about: sheer, unapologetic, joyous, live-for-the-moment indulgence.
We have been eating like kings for weeks now. I sowed my mangetout in March, three to a 10cm pot, just like I do my regular peas. They shot up: out they went in early May. I forgot to support them properly and we had a dicey few weeks in which it was touch and go whether they'd overcome the damage inflicted on them by the slugs.
But though these may be luxury crops par excellence, they are no prima donnas. They hitched up their skirts, left their slug-tattered bits behind and headed determinedly for the skies. And now we're picking mangetout by the saucepan full. We have them raw in salads, and my kids take them in to school in little bundles to snack on. And they're still going strong.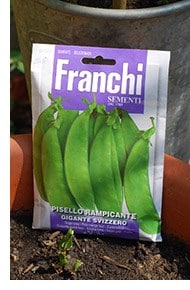 They are so utterly, utterly delicious. Five minutes of steaming and there they are, crisp and sweet, dancing on your tongue. That's if you can be bothered to cook them, of course: I snack on them as I pick them, and when I'm walking past on my way to get something else.
It's at times like this that I know growing your own is the best un-told secret out there. Look at all those norms shelling out £1.50 for every mingy little 200g packet. I paid a couple of quid for the seeds I bought, and we've been picking half a kilo every couple of days for… oh ages. It's not even like I've sown loads, either: two 3m (10ft) rows, that's all. And I've even got enough seed left over to sow another batch this week so I've got new plants to crop into autumn. Hah. Smug doesn't even start to cover it.
If you're a dyed-in-the-wool shelling pea and pickle devotee, it's still not too late to convert to a life of hedonism. Grab yourself a packet of seed and sow from April to June (although I sowed earlier this year in March) and into early July at a stretch. If the veg garden is packed, give them a roomy container outside the back door. They'll be pumping out the pods from September to the first frosts: and you'll be a convert from the first bite.