Small trees with red fruit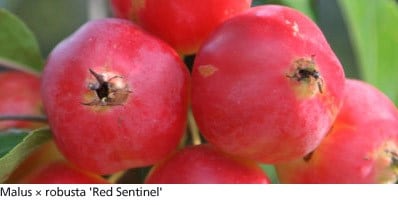 Red-fruit, seen against an opalescent winter sky, is always stunning and the hybrid crab apple Malus x robusta 'Red Sentinel' cannot be beaten for winter spectacle. It will scatter small red crab apples on the green grass in autumn and perforate the snow in winter, but there's always plenty of fruit on its bare branches until winter ends. Scented apple-white blossom appears in spring, as the green leaves emerge, and this small, rather upright slowly-developing tree (up to 6m when fully grown) is healthier than most other crabs.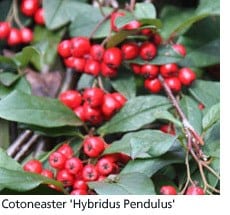 The smallest tree of all is the weeping standard Cotoneaster 'Hybridus Pendulus' and this is one of the most ornamental of all. The semi-evergreen leaves redden and partly drop in winter to reveal jewelled branches that form a delicate parasol of leaf and red berry. This small tree can also be grown in containers, although trimming reduces the number of berries.