Cloches - highly decorative and practical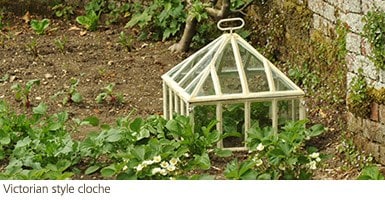 Cloching is an ancient art and the Romans were known to protect their cucumbers with glass covers. However it was the French who perfected the art of raising crops under glass. They used giant glass bell jars, which they called cloches. These were originally blown by Italian glassmakers in the late 16th century and reached the south of France a little later. Olivier de Serres (literally Oliver of the Greenhouses) used them to raise melons by 1600. The big glass hats became known as cloches in France, but they were expensive to produce and highly breakable. By 1677 square cloches with pieces of glass set in lead were being made in England. Often old window panes were used in their construction and, if a piece of glass broke it could be replaced. Both were highly decorative. They were propped up on wood during the day, or moved to one side and then replaced for the night. That method helped to harden off the crop.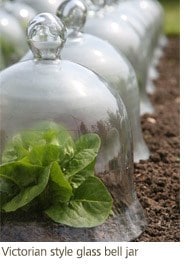 Modern reproductions add great style to productive kitchen gardens, potagers and wildflower areas, as well as giving protection to tender crops and plants. The rugged, square 'Victorian Style Cloche' can be left out all year and their cream paintwork and slightly rusty patina mixes well with vegetables and annuals, making a real feature to focus the eye. There are also rounder 'Bell Cloches' in heavy glass, the larger ones being the most useful and decorative outside, whilst the smaller ones are also useful indoors and out.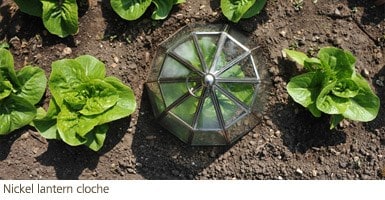 Crocus have also designed their own 'Lantern' range of reproduction cloches in nickel and bronzed metal, both in two sizes. These handsome cloches could be used with ferns as well as productive crops.