Choice plants in September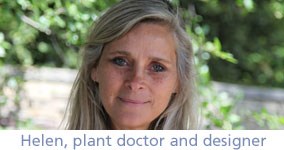 September always feels like a pivotal month of the year. We can still lap up the last of the summer sun on warmer days, but the evenings have a cooler, autumnal edge. It's time now to plan ahead, so I will be dreaming up some spring-flowering bulb combinations, before placing my order and planting them out. Towards the end of the month, some of the perennials that have formed overly-large clumps will be lifted and divided and the autumn tidy will commence in earnest. In the meantime, if you are looking for a little late colour for the borders, here are some of my monthly faves.
Our monthly favourites
Cracking Combination of the Month
This is a classic combination that will create lots of late colour in the herbaceous border. The shape of the daisy-like flowers (one large and one small) compliment each other, while their colours, which are at each end of the spectrum, offer a fresh contrast. Better yet, the yellow eye of the aster mirrors the rich golden 'petals' of the black-eyed Susan.
Why I like it and what it's useful for:
First introduced around 50 years ago, this plant has won heaps of awards over the years. Quite right too, as it produces an abundance of flowers over a really long period. It is short enough not to need staking, it is long-lived, low maintenance and it will attract butterflies, bees and hoverflies. If there is room, plant it in bold drifts where the golden yellow flowers can be lit up in the low autumn light.
Why I like it and what it's useful for:
Often unfairly maligned, asters are seen by some as dowdy, old fashioned plants that should be relegated to the compost heap. Not so this one though. It is distinguished for its resistance to mildew and it will flower its socks off for months on end, providing lashings of colour well into autumn. The flowers will provide a rich source of nectar for butterflies and bees, but if cut and added to flower arrangements, they will often last for weeks in a cool room.
Why I like it and what it's useful for:
Every garden (especially the shadier ones), should have some of these. It naturalises easily, forming large clumps that can be divided within a few years, and the flowers are great for cutting. Use it to fill gaps at the back of a border, where it is robust enough to stand up well without flopping - even in unpredictable weather. First discovered in Verdun, France in 1858 it is now one of the best loved Japanese anemone of them all.
Why I like it and what it's useful for:
Introduced by Alan Bloom (of Blooms of Bressingham), 'Taurus' has larger than average leaves that will form excellent groundcover from spring to late autumn. It is however for its gorgeous red flower spikes that it is primarily grown. These first appear on slender stems in late summer, swaying gracefully as they catch the slightest breeze. Happiest in poorly-drained soils, allow them to form great naturalised swathes for maximum effect.
Why I like it and what it's useful for:
A superb all-rounder, it is tough and fast growing, and it will thrive in troublesome areas such as dry sun, cold, exposed or seaside locations. This cultivar stands out for its near-evergreen foliage, which forms softly arching tussocks, from which the honey-beige flowers emerge in late summer. Resist the urge to cut these flowers back after they have faded as they look incredible on an frosty morning.
Why I like it and what it's useful for:
We don't get too many exotic-looking blooms in this county, which makes these purple-spotted, creamy-white flowers (that some say resemble orchids) really quite special. Preferring a spot in partial shade, it is an invaluable woodlander, which will nestle happily with ferns and hostas, providing colour long after the woodland floor has turned a sea of green. Plant them where they will receive a reliable source of moisture in summer and watch them flourish.