Tulipa 'Angélique'
double late tulip bulbs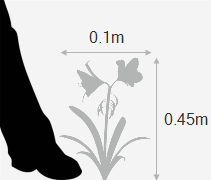 More peony than late tulip - with soft double-cupped flowers in an ice-cream mixture of pink and vanilla-white - softended by a hint of lily-of-the-valley green.



Position: full sun
Soil: fertile, well-drained soil
Rate of growth: average
Flowering period: early May
Flower colour: pink
Other features: excellent cut-flowers
Hardiness: fully hardy
Bulb size: 11/12

Delicate, soft pink, double, bowl-shaped flower, flushed with both paler and darker shades of pink in April and May. From a distance, you could easily mistake these tulips for peonies and they are usually one of the last tulip into flower - so a good one to choose if you want to extend a bedding display.


Garden care: In September to December plant bulbs 15-20cm deep and 10-15cm apart in fertile, well-drained soil. Alternatively, allow 7-9 bulbs per 30cm sq. After flowering dead-head and apply a balanced liquid fertiliser each week for the first month. Once the foliage has died down naturally lift the bulbs and store in a cool greenhouse.



Harmful if eaten/may cause skin allergy
3 litre pot
within 2-3 days (exc. weekends)
10lt pot (1.5-1.8m)
within 2 weeks
Do you want to ask a question about this?
If so, click on the button and fill in the box below. We will post the question on the website, together with your alias (bunnykins, digger1, plantdotty etc etc) and where you are from (Sunningdale/Glasgow etc). We'll also post the answer to your question!
1 Question | 1 Answer
Displaying question 1
Q:

I adore these tulips. However, last year I planted over 50 miscellaneous tulip bulbs and every single one was dug up and taken by squirrels. What can I do to prevent a reoccurrance with this years purchases?

Asked on 7/23/2013 by star girl from edinburgh

1 answer

A:

Hello,

Squirrels can be a real nuisance when it comes to bulbs. We do have a couple of deterrent available - please click on the following link to go straight to them.

http://www.crocus.co.uk/products/_/tools/pest-control/squirrels/plcid.767/plcid.783/plcid.970/

I find however that the best method is to plant the bulbs in a deep hole and then back-fill with a little soil. Then lay a piece of metal chicken wire over the top of that and finish back-filling. The bulbs will be able to grow through the chicken wire (don't choose one that has a very small gauge) and if the squirrels dig down, they will hit the wire and may be deterred.

Good luck!

Answered on 7/24/2013 by Helen from Crocus
Displaying question 1