Paris polyphylla
paris bulbs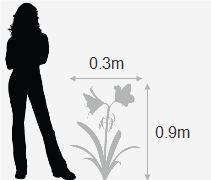 Whorled leaves topped by jade-green bracts - this woodland sculpture is made more 'sci-fi' by six yellow antennae rearing upwards - an explosion of red berries follows in autumn.



Position:
full or partial shade
Soil:
moist, fertile, leafy soil
Rate of growth:
slow
Flowering period:
May to June
Hardiness: fully hardy
Bulb size: 12/13

Originating from the Himalayas, this unusual plant produces spider-like flowers that throw out long, thread-like, yellowish green petals throughout the summer and into autumn above a ruff of bright green leaves. The flowers are followed by small scarlet berries in autumn. A slow-spreading perennial that looks exotic but is fully hardy in Britain, it thrives in leafy, moist soil in full or partial shade and is perfect for woodland gardens or for planting under deciduous trees.


Garden care:
Plant with the pointy shoot at one end of the rhizome facing upwards. Then cover with around 5cm of humus rich soil. Make sure the soil does not dry out in summer and apply a generous layer of mulch in the autumn. Leave plants undisturbed so they will increase year after year.
2 litre pot
within 2-3 days excludes weekends
approx 250 seeds
within 2-3 days excludes weekends
Who can resist the allure of water in the garden? The gentle gurgle of a running stream creates a sense of calm and tranquillity, while a simple pond makes a focal point with magnetic appeal. You can create lush...
Read full article