Narcissus poeticus var. recurvus
pheasants eye narcissus bulbs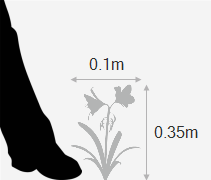 Position:
full sun or partial shade
Soil:
well-drained soil
Rate of growth:
average
Flowering period:
March and April
Flower colour:
pure white with an red rimmed, yellow cup
Other features:
excellent as cut-flowers; contact with the sap may cause skin irritation
Hardiness:
fully hardy

Fantastically fragrant, pure white May flowers with windswept petals and tiny, red-rimmed yellow cups. This old pheasant's eye narcissus is ideal for naturalising in grass. The small, sweetly scented blooms associate well with other native wildflowers, such as snake's head fritillaries and cowslips, which once flourished on moist pastureland.


Garden care:
Wearing gloves plant bulbs 10-15cm (4-6in) deep from late summer to early autumn.


Harmful if eaten/skin irritant