Lilium 'Sixth Sense'
lily bulbs
50% off Lily bulbs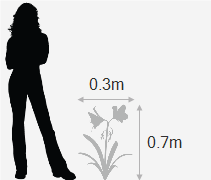 Position: partial shade
Soil: moist, acidic soil
Rate of growth: fast-growing
Flowering period: July to August
Flower colour: deep burgundy with a white edge
Hardiness: fully hardy

A magnificent lily with darkest maroon petals, each of which is edged with creamy white. Enjoy them in the garden where they will look spectacular planted alongside rich purples, softer pinks or near-black, or cut the stems when the buds are starting to break and enjoy them in a vase for several weeks in a cool room.

The RSPCA have reported that all parts of lilies can be fatal to cats, including the flower, leaves and pollen. For more information visit Rspca.org


Garden care: Lilies can be planted at any time from early autumn, to mid-spring. Planting in autumn often helps them settle in and become better established before they start to put on their new spring growth, but spring planting is a better option if your soil is heavy and wet during winter. Choose a sunny spot, preferably where the plant receives a little light shade at its base, and plant each bulb 15-20cm deep in a well-drained soil, enriched with well-rotted organic matter or leaf mould. Space them between 15 - 30cm intervals and provide support before the flowers appear. Deadhead the faded blooms promptly and cut the dead stems back to ground level at the end of autumn.


There are currently no 'goes well with' suggestions for this item.
Do you want to ask a question about this?
If so, click on the button and fill in the box below. We will post the question on the website, together with your alias (bunnykins, digger1, plantdotty etc etc) and where you are from (Sunningdale/Glasgow etc). We'll also post the answer to your question!
1 Question | 1 Answer
Displaying question 1
Q:

Lilies

Hi I have grown Lilies for the 1st time this year. Can you advise me if they are annuals or bi-annuals? What do you do after flowering? Kind regards Robert

Asked on 7/19/2009 by boblee

1 answer

A:

Hello Robert, These are bulbous perennials, so will carry on year after year. They will be starting to die back soon, but you should still be feeding with a high potash fertiliser now. Leave them where they are and make sure they are well watered - in winter you can cut this back a little - and they should come back again next year. I hope this helps. Helen

Answered on 7/20/2009 by Crocus Helpdesk
Displaying question 1