Lilium 'Hyawatha'
lily bulbs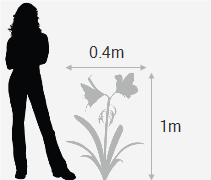 Position: full sun or
Soil: well-drained soil enriched with leaf mould or a loam-based potting compost, such as John Innes no2
Rate of growth: average
Flowering period: July to August
Flower colour: deep red
Other features: excellent cut-flowers
Hardiness: fully hardy

Deep red trumpet-shaped flowers top the sturdy stems of this beautiful asiatic lily in summer. Impossible to miss when planted in a mixed border, this dynamic cultivar was first introduced in the 1970's and is still going strong today. Incorporate it into a 'hot' themed colour scheme, or try it with a rich dark purple for a 'wow-factor' display.


Garden care: Lilies can be planted at any time from early autumn, to mid-spring. Planting in autumn often helps them settle in and become better established before they start to put on their new spring growth, but spring planting is a better option if your soil is heavy and wet during winter. Choose a sunny spot, preferably where the plant receives a little light shade at its base, and plant each bulb 15-20cm (6-8in) deep in a well-drained soil, enriched with well-rotted organic matter or leaf mould. Space them at approximately 30cm (12") intervals and provide support before the flowers appear. Deadhead the faded blooms promptly and cut the dead stems back to ground level at the end of autumn.