Lilium (African Queen Group) 'African Queen'
lily African Queen bulb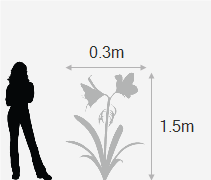 Position: full sun
Soil: well-drained soil enriched with leaf mould or a loam-based potting compost, such as John Innes no2
Rate of growth: average
Flowering period: July to August
Flower colour: burnt orange
Other features: excellent cut-flowers
Hardiness: fully hardy
Bulb size: 20/22

Giant-sized, fragrant trumpets appear on the tall, upright stems of this bulbous perennial in summer. A showy plant, which is ideal for adding height and scent to the border. They fit easily into a cottage garden scheme, but will work equally well in herbaceous borders, particularly when teamed with other hot colours.


Garden care: Lilies can be planted at any time from early autumn, to mid-spring. Planting in autumn often helps them settle in and become better established before they start to put on their new spring growth, but spring planting is a better option if your soil is heavy and wet during winter. Choose a sunny spot, preferably where the plant receives a little light shade at its base, and plant each bulb 15-20cm (6-8in) deep in a well-drained soil, enriched with well-rotted organic matter or leaf mould. Space them at approximately 30cm (12") intervals and provide support before the flowers appear. Deadhead the faded blooms promptly and cut the dead stems back to ground level at the end of autumn.


Do you want to ask a question about this?
If so, click on the button and fill in the box below. We will post the question on the website, together with your alias (bunnykins, digger1, plantdotty etc etc) and where you are from (Sunningdale/Glasgow etc). We'll also post the answer to your question!
1 Question | 1 Answer
Displaying question 1
Q:

Lilies

Hi I have grown Lilies for the 1st time this year. Can you advise me if they are annuals or bi-annuals? What do you do after flowering? Kind regards Robert

Asked on 7/19/2009 by boblee

1 answer

A:

Hello Robert, These are bulbous perennials, so will carry on year after year. They will be starting to die back soon, but you should still be feeding with a high potash fertiliser now. Leave them where they are and make sure they are well watered - in winter you can cut this back a little - and they should come back again next year. I hope this helps. Helen

Answered on 7/20/2009 by Crocus Helpdesk
Displaying question 1