Lavandula 'Helmsdale (PBR)'
French lavender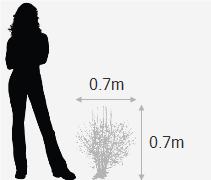 Position: full sun
Soil: moderately fertile, well-drained soil
Rate of growth: average
Flowering period: May to July
Flower colour: burgundy purple
Other features: the aromatic flowers and leaves can be used for making pot-pourri
Hardiness: borderline hardy (may need winter protection)

Compact bushy shrub with aromatic grey-green leaves and broad spikes of fragrant burgundy purple flowers topped by purple bracts. This gorgeous French lavender makes a neat, compact edging for a sunny path or border. In frost-prone areas, grow in a container and over-winter in a cool greenhouse or conservatory.


Garden care: Cut back the stalks after the flowers have faded. Carefully trim back in April, taking care not to cut into old wood.


2 litre pot
within 2-3 days excludes weekends
2 litre pot
within 2-3 days excludes weekends
Many shrubs, trees and climbers are showing signs of growth and so it is an ideal time to check them over for winter damage. If you feel they need a little care and attention, here are a few notes to...
Read full article