Gladiolus mixed colours
gladioli bulbs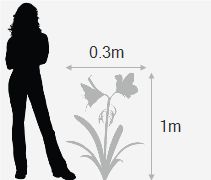 Position: full sun to partial shade
Soil: fertile, well-drained
Rate of growth: average
Flowering period: July to September
Other Features: excellent as cut flowers
Hardiness: half hardy
Bulb Size: 8-10cm

This is a mixture of the best large flowering gladioli, ranging in colour from white through to startling red. The flowers are produced from July to September and make excellent cut-flowers. They look stunning planted in groups among shrubs and large herbaceous flowers in a border.


Garden care: Plant corms 10-16cm (4-6in) deep in spring, on a bed of sharp sand to aid drainage. In frost-prone areas, lift them when the leaves turn yellow-brown, dip the corms in fungicide and store in a dry, frost-free place over winter.


Do you want to ask a question about this?
If so, click on the button and fill in the box below. We will post the question on the website, together with your alias (bunnykins, digger1, plantdotty etc etc) and where you are from (Sunningdale/Glasgow etc). We'll also post the answer to your question!
1 Question | 1 Answer
Displaying question 1
Q:

What fungicide is best to use on gladiola corms before storage

Asked on 2/8/2014 by Ria from Kent

1 answer

A:

Hello,

I have double-checked with the British Gladiolus Society and they do not recommend using any fungicide at all when storing these corms - please see the following link for more information.

http://www.britglad.com/Cultivation.html

Answered on 4/8/2014 by helen from crocus
Displaying question 1