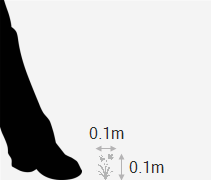 Position: partial shade
Soil: moderately-fertile, humus-rich, well-drained soil
Rate of growth: average
Flowering period: December to March
Flower colour: pink
Hardiness: fully hardy

Delicate pink flowers with upswept petals appear in winter or early spring above rounded, silvery-green leaves. These diminutive cyclamen are perfect for naturalising around the base of deciduous trees and shrubs. Best in humus-rich, well-drained soil in partial shade, they make excellent companions for ferns and other shade-loving plants.


Garden care: Plant tubers with the rounded (usually smooth) side down, shallowly in humus-rich, fertile soil. Apply a generous 5-7cm (2-3in) mulch of well- rotted leaf mould around the crown of the plants in spring as the foliage starts to die back.


There are currently no 'goes well with' suggestions for this item.
Bulbs are ideal for anyone who rates themselves as 'keen-but-clueless' because they are one of the easiest plants to grow. Provided you plant them at the right time of year at more or less the right depth, they will reward...
Read full article