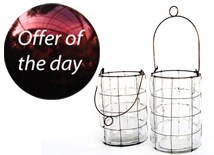 Tall glass blown lantern £9.99
We are really getting into the Christmas spirit this year, so we are going
to be offering some super-special deals in the run-up to the big day.
Twice a week we will feature a different product, which we will then be
selling at a knock-down price for just a few days.
If you check out our Christmas homepage every Tuesday and Friday
you will see what our latest deal is, but you will need to act fast
if you want one as they will only be available for a limited period.
We think all of these items will make great gifts (or you may want to
buy two, so you can keep one for yourself)... Ho Ho Ho!